Donor Spotlight: John and Karen Coffey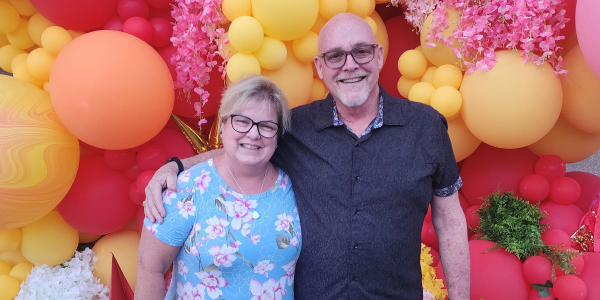 Investing in the Future
It's not unusual to hear people of a certain age complain about today's youth. John Coffey sees it differently, thanks to his involvement as a Flagler College donor and member of the Science Advisory Board. John brings 40 years of volunteer experience and 15 years of education and healthcare experience to his new role. Thus far, he has found his participation rewarding, and the Senior Capstone presentations particularly inspiring. "The students did an excellent job gathering meaningful data, using it to test their hypotheses, and presenting their findings. It's astounding to me how smart and capable they are. They really want to change the world," John says.
The presentations solidified what John and his wife Karen already knew: Flagler was worthy of their support. "We've been fortunate in life and business. We support the College with monthly contributions and a planned gift because we believe in its mission. The low student-to-faculty ratio has a lot of benefits, including individualized instruction and ease of communication. That's something I missed in my life, having attended large state schools," John says. His daughter Celeste experienced the advantages of a Flagler education during her freshman and sophomore years. "It was a very positive experience for her growth. She was able to personally communicate with her instructors. At Flagler, you can always find someone to speak with," John says.
The Coffeys noticed that personal touch when they interacted with the Office of Institutional Advancement. Including Flagler in their estate plan was "a really easy process" and the couple never felt forgotten after their gift was received. "Their acknowledgment of our gift was fantastic, and their communication was personal. I met most of the (Institutional Advancement) staff. We so appreciate the personal nature of their acknowledgment, having received only form letters from other institutions," John says.
The Coffeys gave a $135,000 planned gift to Flagler's initiative to increase programmatic support and academic offerings. Their gift will help support areas of greatest need. "We didn't want to attach strings to the gift; we wanted to give where it could be used to the best advantage. From reading the First 50 Years of Flagler College, I learned about the Kenan Trust and other support. It is amazing what gifts have done over the history of the school," John says.
In addition to their planned gift, the Coffeys contributed to Flagler's "Roar and Raise" challenge, to the Science Fund for Excellence, a program that recently added a new lab, is launching a biology major in fall 2024, and endeavoring to build a new science facility, and the Central Florida Alumni Association Chapter Endowed Scholarship. That scholarship is one of many being matched by a challenge grant from The William R. Kenan, Jr., Charitable Trust.
Although neither of their parents were active in their communities, Karen and John began giving back at an early age. "I got involved in Junior Achievement in high school and saw how the kids flourished. When Celeste was born, we got really involved with the Presbyterian Church. Karen volunteered at her preschool and elementary school. It evolved as life happened."
While there will always be people who complain about the youth of today, John and Karen Coffey believe service and philanthropy can create a bright future. To prove his point, John quotes a comment he heard years ago, "If you care enough to complain, you should get involved." That advice inspires him to this day.
It costs nothing to complain, but nothing changes in the process. It costs more to give of your time and resources as John and Karen Coffey have, but the rewards are great, not only for donors but for everyone impacted by their generosity.
To learn how you can support Flagler through annual or planned giving, contact Nicole Pece, Director of Development and Gift Planning at 904-819-6406 or [email protected].