Success Begins at Flagler College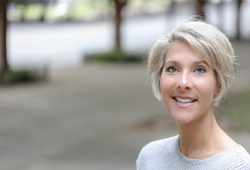 When Marisa (Puthoff) Meadows graduated from Flagler College in 1997, she set an ambitious goal: achieve vice president level at a public relations agency by age 30. Not every young person with a newly minted communications degree would think that was attainable, but Marisa was fortunate. Four years at Flagler armed her with a "You can do this!" confidence. "The College gave me so much at a pivotal moment in my life. It set me up for success," Marisa says.
Grateful for the College's influence on her life, Marisa established the Marisa G. Puthoff '97 Endowed Scholarship in Communication in July 2022. "I was incredibly fortunate. My parents were able to cover my tuition, room and board, so I graduated debt-free. It's an amazing gift, one that I hope to help pay forward," Marisa says.
A Timely Opportunity
Marisa, who serves on the College Alumni Board, was one of the first Board members to take advantage of the William R. Kenan, Jr. Charitable Trust matching gift opportunity. Two million of the Kenan Trust's $12 million grant is being used to encourage donors to make a one-to-one match to establish new endowed scholarships. The scholarships will target first-generation students, those who come from diverse backgrounds and/or demonstrate financial need.
At Alumni Weekend, a conversation with Vice President of Institutional Advancement Kristy Myers led Marisa to make a commitment. "Sorting out the details was easy," Marisa says, "thanks to the Office of Institutional Advancement team. Giving back to the College was always a part of my long-term plan. With the Kenan match, I couldn't pass up the opportunity to have the money go so much further."
Endowing a scholarship was just the first step in Marisa's longer term planned philanthropy.
While the Kenan match was an opportunity too good to pass up, the timing was also right for a planned gift. "I recently married and was in the process of updating my will and beneficiaries," Marisa says. In addition to the scholarship, she also made a significant planned gift to the College through the IRA she spent 20 years building during her career at Edelman, the world's largest communications firm.
The Importance of Alumni Engagement
In the process of establishing her scholarship, Marisa learned that the percentage of alumni who give impacts Flagler's U.S. News and World Report ranking. This ranking considers the percentage of alumni who support the College financially. Philanthropic foundations also review alumni participation when considering whether to award grants. That's why Marisa encourages her fellow alumni to give, even if they start small.
Nurturing Hidden Talents
Today, Marisa is partner of client success at Chirp, a marketing, communications, digital and public relations agency for B2B high-growth companies. Over her distinguished career, Marisa has helped numerous organizations from Fortune 500 companies to start-ups, and in 2019, was honored as one of 50 Flagler College Alumni of Distinction.
In the early 1990s, however, she was a high school senior taking her first steps toward independence. "I knew I needed a smaller, more structured college, and professors who cared about their students' success." Although St. Augustine was "completely different" from the metro-DC area where she grew up, "From day one, it felt like home. Every professor was committed to exceptional education. They knew me by name, knew where I was struggling and understood the importance of talking to a young freshman. They saw talents in me I didn't know I had. That gave me confidence and made me take a chance and major in a field that was entirely new to me."
Marisa's College experience has enriched her entire life. "I made lifelong friends and acquired a commitment to lifelong learning at Flagler."
The foundation Marisa acquired at Flagler paved the way for a successful career. Giving back to the institution that gave her so much makes her "exceptionally happy." She's grateful her professional success allowed her to make a meaningful donation but urges alumni to give what they can. "Start with a five- or 10-dollar donation. There are so many ways to give. Reach out to the Institutional Advancement team. They are great at answering questions without any pressure."
To learn more about Kenan Trust matching gift opportunities or ways to make a gift through your IRA, contact the Office of Institutional Advancement at 904-819-6437.