Planning Ensures Prosperity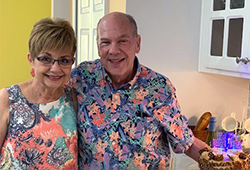 Gordon Foster understood the value of education from an early age. He was just 14 when his physicist father accepted a job as chairman of the science department at Florida Presbyterian College (now Eckerd College). "His parents were tuned into supporting higher education because of his father's role," says Frances Foster, Gordon's wife. Two of Gordon's siblings also became educators. Gordon earned his Masters of Business Administration from Florida State University, became a financial advisor, and went on to teach at a junior college. "Our society cannot function without educated people," Gordon says. He believes that supporting educational institutions like Flagler College helps ensure a prosperous future, not just for the College, but for society as a whole. "Giving to Flagler is a beneficial act that results in more benefits to other people."
Frances says her husband was already supporting his alma mater when Samantha Palmer (2004), manager of Retail Operations at Flagler's Legacy gift shop, inspired him to support the College. Samantha is married to the Fosters' nephew Allan. "Gordon and I don't have any children together, so we consider her our daughter. She has a passion for Flagler," Frances says. Samantha introduced the couple to Nicole Pece, the College's Director of Development and Gift Planning, who guided them through the planned giving process. "Nicole has been our go-to person for a year now . . . it was very easy to designate a portion of our trust to Flagler," Frances says.
Planned giving felt right for other reasons, too. "From a financial standpoint, it's easier to give over a period of time," Gordon says. It also solved a personal dilemma of how to distribute his assets. In 2020, one of Gordon's sons died from Lou Gehrig's disease or ALS. His other son is provided for but cannot inherit money due to his medical condition. So, the Fosters decided to transform a painful situation into progress by designating a portion of their estate to Flagler, Florida State University, and the ALS Foundation. "Why not give so others can prosper? Everybody should have an education, skill, or trade," Frances says, adding, "I would not be where I am today without help from strangers."
A Driving Force
The Fosters earmarked their future gift for the areas of greatest need, so the College could decide the most efficient way to use the funds. "We're fortunate to have a small liberal arts college in our community. We want to help it continue to function at the highest level," Gordon says.
Anyone who cares about the College, Gordon says, should consider supporting it through a deferred gift. When the Fosters reviewed their charitable goals, they realized that a gift through their trust could create a legacy that will benefit the College and its students for years into the future. "That was a driving force in our decision," Gordon says.
Though the Fosters describe themselves as "low-key people", their gift speaks volumes of their foresight and generosity, and their belief in the power of "a small liberal arts college" to change lives.
Planned giving ensures a strong future for Flagler College and its students. To learn how you can support the College through your will or trust, please contact Nicole Pece, Director of Development and Gift Planning, at 904-819-6406.