Lifting Flagler through Song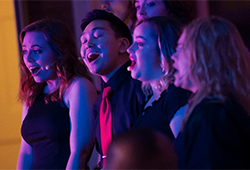 What do Mindy Kaling, Mira Sorvino, and John Legend have in common? All three achieved great success and all three belonged to a cappella singing groups in college. That is what Robert "Bob" Silverman hopes for students enrolled in the Music and Visual and Performing Arts Programs at Flagler College. Fortunately for students, he is making this dream a reality. His $100,000 planned gift to establish the Robert Silverman Endowed Fund for A Cappella will support an a cappella singing group at Flagler and will help ensure its continuation. His gift will also provide funds for vocal lessons, faculty support, and travel to performances. Making Flagler a beneficiary of a portion of his retirement plan assets was surprisingly easy, Silverman says. The process "just flowed." A loyal donor since 2009, he has also made gifts to the Visual and Performing Arts Fund for Excellence, which supports general program needs.
The Music Program develops students' musical abilities through instruction and performance. In 2019, 14 students took several prizes in the National Association of Teachers of Singing Conference, with six taking first place. That is impressive, considering that the music minor only came into being in 2018.
A Competitive Advantage
A portion of Silverman's generosity helps fund scholarships for vocal lessons. He believes that scholarships are particularly important to a small private college. "Flagler is competing with the University of Florida and Florida State University, and many of our students are the first in their families to attend college."
Music Program Director Kip Taisey agrees. "We're a grassroots program. The only way we can compete with other institutions is through scholarships. I love Bob's enthusiasm and willingness to support a growing program. People like Bob help us lay the foundation. We wouldn't be where we are without him."
A Surprising Talent Pool
Silverman's first impressions of Flagler happened when he interacted with students in the community. "I noticed these nice young people working in retail. They were so kind and clean cut. I thought, 'There's something going on there (at Flagler) that I need to understand.'" His opinion improved after attending several College performances. "I was amazed at Flagler's marvelous talent pool, and their commitment to music and performing. I wish the general population knew about the surprising talent we're attracting to Flagler College."
Delivering the Message through Music
Silverman's passion for a cappella began while he was attending Dartmouth College and singing in the Aires a cappella group. "Through traveling performances, we brought the message of what Dartmouth College was all about to other colleges. Yale, Cornell, and other singing groups did the same for their schools. Seeing what a cappella could mean for universities, I was motivated to create a group at Flagler. I'm hoping through a cappella people start realizing how special Flagler College is."
His vision is taking shape as Taisey's program progresses. The newly formed a cappella ensemble will perform in the spring of 2022. A performance by the new cabaret ensemble will follow in the fall. Silverman has high hopes for the a cappella ensemble. "I would like to see them compete nationally on The Voice and The Sing-Off."
The Tempo of the Town
For Silverman and his social circle, there's no denying that that the College sets a lively tempo for St. Augustine. (His circle includes Business Board members Mike Prince and Joe Bateman.) "The vitality the College brings to St. Augustine is remarkable. I've met some wonderful people through the College. EMMA, First Coast Opera, and the Limelight Theatre all exist in part because of Flagler. It's very important to me that Flagler thrives. If you care about your city, support the College," Silverman says.
To learn more about giving through your IRA as part of your estate plan, contact Nicole Pece, Director of Development and Gift Planning, at 904-819-6406.