Making Philanthropic History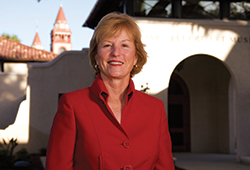 As graduates of the University of Florida, Delores Lastinger and her husband, Allen, had long been known for their support of their alma mater. In 2002, they created an endowment to fund UF's Lastinger Center for Learning, an education innovation incubator for teacher development and improved student learning.

But when the late good friend Fred M. Cone, Jr., former Chairman of the Board of Trustees at Flagler College, asked Delores to get involved with this small institution in St. Augustine, she didn't hesitate. She served as a Trustee from 2006 to 2015 and at the time of her appointment was only the second woman to serve in this capacity. Since then, together with her husband, supported the College with a number of generous financial gifts.

In 2009, the Lastingers committed a $500,000 challenge grant to fund the restoration of the historic solarium over Ponce Hall. The solarium was the last unrestored section of the former Hotel Ponce de Leon, a National Historic Landmark. The project was an exciting fit for the couple's long interest in Florida history and preservation, Delores said.

"Allen is very interested in Florida history and is the treasurer and former president of the Florida Historical Society," she said. "He has an incredible collection of Florida history books, vintage Florida maps, and Florida artwork. It was a natural fit for us to become more involved with Flagler College and with the important preservation of its historic structures. The solarium restoration far exceeded our expectations. It's stunning," she said.

Born in Baltimore but raised in Orlando, Florida, Delores earned a Business Education Degree at UF, where she met her future husband. After the couple's relocation to Jacksonville, she earned a Master's degree in Education Administration and Supervision from the University of North Florida. She has taught at schools in Duval and Alachua County as well as Episcopal School of Jacksonville.

Over the past many years Delores has been invested in numerous philanthropic efforts, including the Flagler College Board and the UF Foundation. One of her most rewarding passions, however, is continuing to be involved with her ten grandchildren. Educational issues are also a passion for her, particularly those involving the profession of teaching.

"I try hard to fulfill the expectations Fred Cone set for me," she said. "And I'll continue to do so for as long as I can."