Freytags Support Flagler through IRA Rollover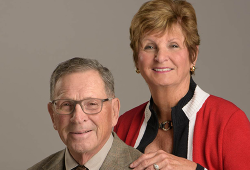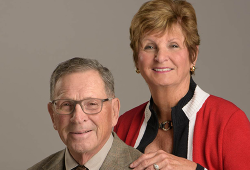 Palm Coast residents Peter and Sue Freytag are no strangers to investing. Peter is a retired vice president of Common Stocks for State Farm, having served the company for 39 years. Recently, the Freytags made an investment they are particularly proud of: an IRA rollover donation of $100,000 to name a space in Pollard Hall. The Freytags' gift was the first major contribution to Pollard Hall.

The IRA rollover is a win-win for the Freytags and the College. It supports Flagler while providing Peter and Sue with a tax-exempt method of meeting required draw-down distributions from their IRA. Tax law dictates that people older than 70 ½ must make yearly minimum draws from their IRA. The gift functions as a "QCD," a Qualified Charitable Donation, with the check written directly to the College from the Freytags' IRA account.

Peter graduated from University of Wisconsin and Sue, a retired fifth-grade teacher, graduated from University of Illinois. Until a few years ago, the Freytags had never heard of Flagler College. Then they spotted an announcement about a visit by journalist Robert Novak to Flagler's Forum on Government and Public Policy speaker series, and they made plans to attend. While at Flagler, they were taken with the College, the administration, the students, and the campus.

"We are very impressed with what Flagler College has done in its short history," Peter said. "I think people don't realize how unique this College is. The outreach that the school has is remarkable, and the personal charisma and warmth of the College community is very special."

Sue agreed. "Flagler College deserves our support," she said. "We are so glad we can help."