Architects of Generosity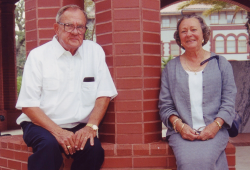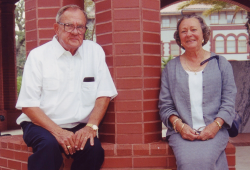 Craig and Audrey Thorn passed away exactly two years apart: he on December 17, 2010, and she on December 17, 2012. Friends say that's just how they did things—high school sweethearts and married for 59 years, where one went, the other would soon follow.

The couple also shared the trait of planning ahead. In 2004, they created a bequest to ensure that upon their passing, Flagler College would receive a donation in excess of $1 million, by far the largest unrestricted bequest the College has received to date.

Flagler College was very close to the Thorns' hearts. Audrey was a St. Augustine native who had watched the old Hotel Ponce de Leon evolve into a premier liberal arts college. Craig, a two-term mayor of St. Augustine Beach, was a prominent city architect who had worked closely with Flagler on nearly every major building and architectural project during the College's first four decades. He was instrumental in the renovation of Ponce de Leon, Kenan, and Wiley Halls, and he designed six campus structures: The Gymnasium, Lewis Auditorium, the Tennis Center, the Athletic Field, Lewis House, and Lewis Memorial Pavilion. He also assisted during the construction of the Proctor Library.

"Craig Thorn's fingerprints are on virtually every building project the College has undertaken in the last 40 years," said Tracy Upchurch, Flagler Associate Professor of Law and History and an attorney for the Thorns. "He was an enormous part of our history."

Brad Davis, the Thorns' CPA, agreed. "The Thorns took great joy in working with the College," he said. "Craig often expressed a deep affection for not just the institution, but for the people who make up the institution. He was very personally connected."

Planners in business and in life, the Thorns chose wisely in designing their last gift to the College. The bequest option—a popular giving vehicle because of its ease of set-up and estate tax deductions—ensures a donor's legacy and can reduce tax burdens for beneficiaries. The Thorns' generous bequest will enhance the already-profound legacy the couple has left on Flagler College.

The Thorns' good friend John Bailey, Sr., remembers Craig and Audrey as a devoted couple who were part of a large group of St. Augustine friends, affectionately dubbed "El Groupo," who together trekked to many destinations including Spain, Greece, and Germany. "Craig was the fun maker," Bailey said. "He was always looking for a way to have a good time." But when it was time to get back to work, Bailey noted, Craig was quick to take his architectural and planning projects seriously. "Craig was so proud of everything he did with the College," Bailey said. "As he should have been."