Honoring Alma Mater through Bequest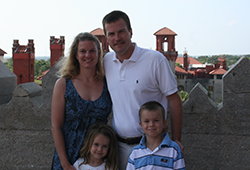 Steve Shineman '94 considers his experience at Flagler College a "life-changing event." He is now the Director of Gift Planning at Texas Christian University, where he and his wife have lived for seventeen years. He graduated Flagler in 1994 and majored in both business administration and communications with a minor in history. "I arrived at Flagler as a teenager and left as an adult, and not just in terms of my age," he says. "It was a transforming time."

Through originally from Texas, Steve grew up in Atlanta and had his sights set on the University of Georgia all through high school. But when he was offered an opportunity to play tennis at Flagler, he decided to come "for one year," he remembers. "I was all set to go to UGA," he says, laughing. "But almost from the moment I started at Flagler, I knew I'd stay all four years."

After graduation, Steve worked in banking for two years before heading to graduate school at Texas Christian University, where he earned his MBA in finance. He and his wife Amy, Senior Director of Marketing at RadioShack, have a busy life as professionals and as parents to Kate, 4, and Luke, 7—with Luke already eyeing a spot on the baseball team at Flagler.

The Shinemans still return to St. Augustine once each year to visit the beach and take in the Oldest City. For Steve, the visits are a reminder of a rewarding time in his life, and he has honored those memories by setting up a bequest that will allow the Shinemans to remember Flagler in their will.

On a recent visit to Flagler, Steve and Amy walked their children through the Dining Hall and the Rotunda, with Steve pointing out familiar sights to his family. Up in the recently renovated Solarium, he looked out over the city, taking in what's generally known as the best view in St. Augustine. And he was more convinced than ever that the bequest option was the right choice for his family.

"When we wrote our will, it was so easy to put my alma mater in and to designate a bequest," Steve says. "And now I am very satisfied to know that I'll be able to leave a significant contribution to a place that's very, very special to me."

"I really grew up at Flagler College," he says. "It's nice to be able to give back to the place that provided that experience."