Win-Win Giving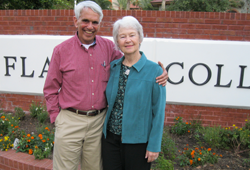 Flagler Friends Make Gift to the College and Ensure Life Income

Thanks to the generosity of donors Frank and Joan Tepper, Flagler College has celebrated a notable first - a gift for the College's first Two-Life Charitable Gift Annuity (CGA).

A CGA is a contract under which Flagler College, in return for a transfer of cash, marketable securities or other assets, agrees to pay a fixed amount of money to one or two individuals for their lifetimes. Also a CGA also helps donors protect appreciated assets and avoid paying potentially high up-front capital gains taxes upon donation.

"It's a win-win situation," Frank says. "There are clear tax benefits to us, but also, we are able to help the College. It is definitely a two-way benefit."

"Charitable gift annuities can provide a safe harbor for investors in an unstable market because they can receive tax-favorable payments that last a lifetime while supporting a cause they care about," says Mark Whittaker, Vice President for Institutional Advancement. "They are also a way to accomplish philanthropic goals and make a difference at Flagler College."

As the College launches its CGA program there are two options for securing the contract. 1) Prosperity Bank, located in St. Augustine, can serve as the investing institution and gift administrator for Flagler College: Or, 2) we can administer the program for you.

The Teppers are regular attendees at Flagler College events and donors to the Molly Wiley Art Building. Frank is a graduate of Dartmouth College and a former board member of Lee-McCrae College in Banner Elk, North Carolina. Joan is a native of Ashville, North Carolina, and a graduate of Rollins College.

"When I went to Dartmouth at age 18, I did not know what I wanted to do," Frank says. "I have the greatest respect for liberal art colleges. Flagler College is a very impressive place and we are pleased to be the first donors engaged in a charitable gift annuity. We would encourage others to follow our example."

For more information about the Flagler College Planned Giving Program, or to inquire about the income and tax advantages of a charitable gift annuity, please contact Nicole Pece, Director of Development, at 904-819-6240 or NPece@flagler.edu.