A Family Legacy That Started at Flagler College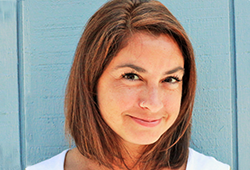 Lisa Law Crowell, originally from Rhode Island, made the decision to attend Flagler College as a high school senior. Upon making that decision, Lisa knew St. Augustine would be her future home. What she didn't know, however, was that Flagler and the St. Augustine area would eventually be the place where she "would make her best and life-long friends." Flagler is even where she met her husband, Kevin Crowell. As Lisa reflects on her time at college, it is evident that Flagler and its community is where the foundation of her family was formed.
Lisa graduated from Flagler College in 1999 with a degree in communications and later completed a master's degree at Embry Riddle. Since graduating and becoming a Saint, Lisa has regularly attended alumni events, has had a Flagler College license plate and participated in the New Year's Eve Ball on campus. Her involvement led her to serve on the Flagler College Alumni Board of Directors for three years.
Though Lisa's husband, Kevin, wasn't attending Flagler while she was a student, he later became a Flagler Saint after completing his service in the military. During his time at Flagler, Kevin had his service dog, Bella, alongside him on campus, even as he walked across the stage at graduation where he received his degree in Public Administration in 2013.
For both Lisa and Kevin, Flagler holds a special place in their heart. This is why it was not only important, but practical for Lisa to make a planned gift to her alma mater. A simple way to do something without involving an attorney was to designate Flagler College as the beneficiary of a life insurance policy, which she no longer needed, to use for any purpose when that time comes. She shared that "it is affordable. Making a gift in this way helps your money to go further," and it will make a significant difference in the lives of so many future Flagler College students. Because the foundation of the Crowell family really started at Flagler, making a planned gift like this was a meaningful and easy way to keep Flagler a part of their life and family, always.
Through this simple and generous act, Lisa became a member of the Henry M. Flagler Heritage Society which was established to recognize individuals who name the College as a beneficiary of a bequest, estate plan, or other planned gift. The society is named in honor of Henry Morrison Flagler, industrialist, developer, railroad pioneer, and philanthropist.
For more information about how you can become a member of the Henry M. Flagler Heritage Society or leave your legacy at Flagler College, please contact Nicole Pece at the Office of Institutional Advancement at 904-819-6406 or Npece@Flagler.edu.