Alumna Shows Gratitude to Beloved Alma Mater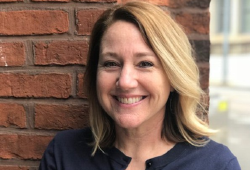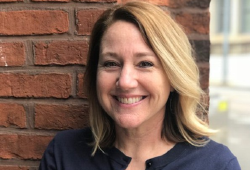 Kathryn Brown Schafer, fondly known as Katy by her friends and family, is a proud alumna of Flagler College, class of 1990. Katy now resides in Raleigh, North Carolina with her husband and four children. She is the Director of Children and Family Ministries at First Presbyterian Church of Raleigh. Her husband, Mac, is pastor of Hudson Memorial Presbyterian Church. Katy earned a Philosophy and Religion degree at Flagler College, and a Master of Divinity degree from Princeton Theological Seminary, but when she reminisces about her time at Flagler, she gets choked up. The emotions are raw because Flagler wasn't where she started her collegiate career but, it is where her most memorable and life changing college experiences were made, and also where she met many of her closest friends.
A graduate of Nease High School and a native of Ponte Vedra Beach, Florida, Katy set her sights on Florida State University in Tallahassee and was excited to go to school in a different part of Florida. After trying to succeed at a big school and failing, she moved home to Ponte Vedra and took classes at UNF and FJC. During this stressful and "in between" time, Katy became a part of the YoungLife community in St. Augustine and was embraced by the Flagler College family. She knew she had found the right place to continue her college education and subsequently transferred to Flagler.


Having only spent five semesters at Flagler, Katy graduated with forever friends, adult mentors in Dr. Mattie Hart and Martha Shinn, a prestigious degree, and even honors on the Dean's list. Her time at Flagler molded her into the person she is today. It's obvious by her stories, that these few years at Flagler provided more than she had thought possible. It was everything she had hoped that a college experience could be.


Katy decided that when she and Mac had children it was absolutely necessary to write a will to ensure peace of mind for her family and more importantly, herself. Katy made a bequest to Flagler College to, "show her respect and gratitude toward her beloved alma mater." Planning a gift through a bequest is extremely important to Katy. She does not currently have the extra income to make a generous outright gift to Flagler at this age and stage of life. Therefore, leaving a bequest in her will was achievable, practical, and simple. Katy understands, and wants to express the importance of having a will in place for you and your family. Making her future gift through a bequest goes far beyond just talking about her fondness for her alma mater. It becomes a tangible expression of her love and adoration for the College. Flagler is listed in her will alongside the ones she loves most.
Katy and her counterparts at Flagler College, encourage others to have a will to clearly state your wishes, and to provide peace of mind for your family and loved ones. Like Katy, many choose to draft this important document after a life event like marriage, the birth of a child, or purchasing property. Although any time is the right time, "the most important thing is to get it done."
It is possible to bequest a gift to Flagler College through a will or trust to support areas that you may be passionate about at the College or, you can provide an unrestricted gift like Katy did, that will be applied to Flagler's most pressing needs. Bequests may be given as a percentage, a specific dollar amount, or even through personal property.


For more information about how you can leave your legacy at Flagler College through a bequest, or to obtain sample bequest language, please contact Nicole Pece at the Office of Institutional Advancement at 904-819-6406 or Npece@Flagler.edu.