Wheeler pays it forward with planned gift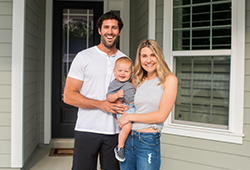 The decision to make a legacy gift to his alma mater, even at a relatively young age, was an easy decision for alumnus Price Wheeler, '13, and his budding family. The Alumni Board member's recent life insurance beneficiary designation marks him as the youngest member of the Henry M. Flagler Society. Wife Aimee and soon to be two-year-old son Jack have already grown to love walking on Flagler's beautiful historic grounds, meeting up with other alumni downtown and hearing all about the Flagler experience that Price enjoyed as a student.
Very readily Price is able to recall the exact experiences, relationships and lessons he's taken away from his time at Flagler. Always "Generous with support and advice," Price fondly remembers trips to the Flagler gym and having a workout friend in former Flagler President Dr. William T. Abare, Jr.
A military veteran, Price began his career in financial services at The Bailey Group after returning to St. Augustine from active duty in 2019. One of the many things he enjoys about his position is the ability to stay incredibly connected to Flagler both through working with his many alumni colleagues and also through his involvement in networking and social events at Flagler. Price was recently invited to attend the Senior Soiree where he presented to more than thirty graduates.
He and Aimee realized that a planned gift to Flagler was surprisingly affordable and easy, but more importantly, impactful. He noted that this recent deferred gift only begins to show his gratitude for an institution that has helped him achieve so much in his young life. It was during his freshman year that Price made his first outright gift to support the senior class endowed scholarship in honor of friends who were graduating. He has continued giving since then for a variety of purposes.
"I am giving in hope that the next generation continues to succeed and grow both personally and professionally. This is a thank you to the College, the donors, the faculty and staff, and so many others who made my experience at Flagler an unforgettable journey."
Price continuously encourages his fellow alumni community to include Flagler College as a partial or outright beneficiary of a life insurance policy or a retirement account. He notes the importance of support to an institution beloved by so many because of the strong connection to the student body it maintains—well beyond graduation.
Through his planned gift, Price is building a legacy at Flagler. He's counting on two things in the future: surfing with his son in St. Augustine and a thriving Flagler College where one day his son might continue his legacy.
For more information about how you can leave your legacy at Flagler College, please contact Nicole Pece at the Office of Institutional Advancement at 904-819-6406 or Npece@Flagler.edu, or visit the planned giving website at https://flaglergiving.org/.