The Gift that Keeps on Giving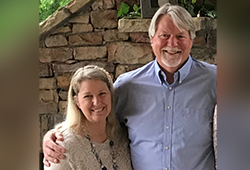 The Gift that Keeps on Giving
There are places and people that change you forever and for the better. The initial impression endures; the lessons learned sustain you through life's greatest challenges. For Page Wiedeman, ("JP" Preston), '83, the place was Flagler College, and the people were Dr. Mattie Hart and Hugh Shaw.
Page had experienced more tragedy by the age of 22 than most people do in a lifetime. "Between the ages of 15 and 22, I had 10 friends die, including my first boyfriend, and Hugh Shaw, my best friend in College who died in an accident two weeks before graduation. That would have totally shaken my faith had it not been for Mattie's influence. She helped me create a firm foundation for my beliefs in God. When family, alumni and friends established the Hugh Shaw Endowed Scholarship, I knew I would donate to that fund, as well as to the Dr. Mattie E. Hart Endowed Scholarship. These people made a lifelong impression on my life and how I chose to handle difficulties from then on," Page says.
Finding Herself
College relationships didn't just help Page overcome grief, they gave her wings to soar. Before coming to St. Augustine, she "got lost in the crowd" at James Madison University. Her first Flagler visit was a spring break lark. She walked into Dr. Hart's class with a friend. While Page waited for her friend's class to finish so they could go surfing, Dr. Hart called on her. "I replied, 'I'm not even in your class.'" Dr. Hart retorted, "You've got a brain, don't you?" The challenge intrigued Page. "I thought, 'I love this woman!'" She wasted no time transferring to the College and registering for Dr. Hart's classes.
If "A" grades came easy in high school, Flagler was another matter. "Anyone who took Mattie Hart's classes knows how difficult it was to make an "A". When you finally achieved that coveted grade, it was hard-earned," Page says. Her efforts paid off. "Flagler challenged me; it helped me to think for myself and formulate educationally-based opinions. I found 'me' at Flagler."
Page also found a worthy role model in Dr. Hart. "She built a personal relationship with each student. She had a knack for helping students question our beliefs and taught us to back them up with research, scripture, logic, and reason. She taught me the importance of earning the right to be heard by my own students. When I became a teacher, I mimicked her teaching style."
Before retiring, Page Wiedeman taught computer technology integration and broadcast journalism to high school students. "I lasted three months in retirement before telling my husband I wanted to work again!" She now works part-time at Piedmont University Student Bookstore in Demorest, Georgia.
Next Level Giving
Grateful for her "life changing" Flagler experience, Page made small donations every year. On a teacher's salary, that seemed her only option. In her 40s however, she decided to give through her living trust. "It was as easy as telling my attorney to designate a percentage to the Hugh Shaw Endowed Scholarship, a percentage to the Dr. Mattie Hart Endowed Scholarship, and another to the Flagler Fund, with a minimum of $25,000 to be donated and divided in thirds. I could never give this much today, but I can't take that money with me!"
Giving through a trust or living will requires no immediate cash outlay and can be changed later if necessary. Another easy way to provide support is to designate the College as a partial or full beneficiary of your retirement account, along with any other beneficiaries you desire. With a gift of any amount or percentage, you join individuals like Page Wiedeman as a member of the Henry M. Flagler Heritage Society.
As someone who has lived on a teacher's salary, Page understands the hesitancy about making a significant donation. "Whatever people give now can be used as a tax write off, subtracted from their bottom line while they're working. If they fear not having enough money, they can designate a certain percentage to Flagler College when they create their living will or trust."
Paying it Forward
As a former educator, Page realizes the ongoing need for funding to help cover operational costs. "Many people don't realize colleges need alumni to help with donations if they want their alma mater to prosper." That's why she designates a portion of her bequest to the Flagler Fund, a general fund that supports the areas of greatest need on campus.
Though many years have passed since Page earned her Flagler diploma, she considers her experience the gift that keeps on giving. She recalls her friend Hugh Shaw as a "peaceful person and strong believer." Dr. Hart's influence has not dimmed either. "We stayed in touch. She shaped who I am as a Christian and a teacher. I will be forever grateful to her! When my life was affected in such a positive way because of Flagler, the very least I could do is give back!"
Giving through your will or trust furthers the mission of Flagler College. To learn more, please contact Nicole Pece, Director of Major and Planned Gifts, at 904.819.6406.